10.6.4. Anti-discrimination and anti-harassment policies
Lebanese University promotes the social, economic and political inclusion of all, irrespective of age, sex, disability, race, ethnicity, origin, religion or economic or another status. In this sense, the university has anti-discrimination and anti-harassment policies.
Principally, the core values of the Lebanese University, as a public free access institution, include equality of all, regardless of ethnicity, religion, disability or gender. According to the above, the Lebanese University have built some campuses and implemented many branches of its faculty on all the Lebanese territory, in order to reduce inequalities and to give equal chances to all students resident in Lebanon to access to the higher education. So even the students with modest financial capabilities could pursue their higher studies. Moreover, the Lebanese University put a plan to build more campuses in new areas in order to give more chance to all students willing to continue their studies, knowing that the number of enrolled students at the Lebanese University is increasing gradually, and knowing that the Syrian refugee crisis that affected Lebanon, requires more premises and more campuses covering the higher educational needs.
Specific Support Measures
The public Lebanese University offers free education for all Lebanese citizens. Students with special needs benefit from the same facilities and measures applied in all public institutions. Measures are rather applied on a case-by-case basis. The Palestinian and Syrian students are treated equally as the Lebanese nationals, but there is no educational support provided to these students to help them overcome difficulties in language or in other learning competences.
​​​​​​​​​​​​​​​​Lebanese University encourages a diverse student body and workforce and is committed to the principle of equal opportunity in education and employment. Consistent with this commitment and with Lebanese laws, it is the policy of Lebanese University not to tolerate any kind of discrimination, discriminatory harassment, or sexual harassment misconduct (as described in the policies​) and to provide those who feel they are victims of any kind of discriminatory harassment (including sexual harassment) with mechanisms for seeking redress, as described in the procedures​.
Discrimination
Lebanese University prohibits discrimination against any member of the Lebanese University community on the basis of any "Protected Characteristics" (listed below) or any other legally protected characteristic under applicable Lebanese law.
Protected Characteristics
Protected Characteristics include race, color, religion, age, national or ethnic identity, sex, gender or gender identity, sexual orientation, pregnancy, marital status, disability, genetic predisposition or carrier status, alienage or citizenship status, and political affiliation.
This prohibition against discrimination and discriminatory harassment apply to all of Lebanese University activities, including, but not limited to, the administration of its educational, admissions, and employment policies; recruitment, hiring, compensation, assignment, training, promotion, performance evaluation, discipline and discharge; and other university programs and activities.
Discriminatory Harassment
Lebanese University also prohibits conduct that constitutes harassment and that shows hostility or aversion toward an individual or group on the basis of their "Protected Characteristics" or any other legally protected characteristic under applicable Lebanese law.
For purposes of this policy, "harassment" refers to conduct that has the intent or effect of:
Unreasonably interfering with an individual's or group's educational or work performance; or

Creating a subjectively and objectively hostile, intimidating, or offensive educational, work, or living environment.
To assess whether the alleged conduct has created a hostile environment, the University considers all relevant evidence, weighs a variety of factors, and evaluates the conduct at issue from both a subjective and objective perspective. The University will examine the totality of the circumstances surrounding the conduct, including its nature, pervasiveness, severity, the relationship between the parties and the context in which the conduct occurred and whether it unreasonably interfered with, limited, or deprived a member of the community of the ability to participate in or to receive benefits, services, or opportunities from the University's education or employment programs and/or activities.
Harassment does not require intent to offend or intimidate. Thus, inappropriate conduct or communication (verbal, physical, written, graphic, electronic, media or other) meant as a joke or a prank can lead or contribute to harassment in violation of this policy.
Discriminatory harassment may occur between people of equivalent status. It is especially serious, however, when it involves abuse of power or authority, such as by a faculty or staff member over a student, faculty or staff member over a subordinate.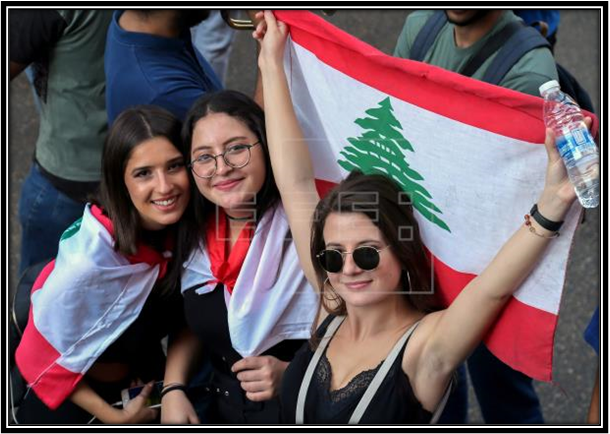 Centre MINE of the Lebanese University proposed a plan to empower women and break gender norms.
Equality, enhancing trust, and developing the language of communication to build positive relationships in the societal environment and the workplace are all listed on the plan of the Lebanese University - Careers, Innovation and Entrepreneurship Center (Centre MINE) to contribute to strengthening the academic and professional role of women, complementing the ERASMUS+ program and FREE Project "Female Academic Role Model Empowerment, Equality and Sustainability at Universities in Mediterranean Region: towards 2030 Agenda" signed with the University.
In order to implement the plan, Centre MINE will begin from criteria included in the 2030 Agenda for Sustainable Development set by the United Nations, including the following points:
Develop a language of communication capable of building positive and supportive relationships in the workplace between men and women;

Identify and address the key gender equality issue, demonstrate confidence in challenging inequality and support colleagues;
Work on broad partnerships to provide leadership and support the change of harmful gender norms, policies and practices and improve gender equality;

Achieve full and productive employment opportunities and secure decent work for all women, men, youth and people with special needs;

Support entrepreneurship, creativity and innovation, and encourage the formalization and growth of SMEs.